7 SWELL THINGS ABOUT CHRISTMAS
I know that the holiday season does not always feel festive or full of joy for everyone. Expectations go unmet. People disappoint. Family's stress each other out. Experiencing the season without a loved one is hard. But the Christmas season provides it's own unexpected and unique blessing that you only get once a year. So for anyone feeling a little Grinchy or Scrooge-ish, maybe you can find something on this list that re-focuses your Christmas joy.
1. Christmas music is everywhere - From the big box retailers to the small business owners, everyone has Christmas music pouring from their speakers. Hearing Frank Sinatra's rendition of

O Little Town of Bethlehem

in the midst of buying groceries or having your tires rotated is special. Christmas is the only time of the year that, virtually anywhere you go, you get to hear music that celebrates Christ.
2. Christmas movies - Watching movies that are typically reserved for just once a year brings a little nostalgia to everyone. Watching Frosty the Snowman with our children for the first time each season never gets old. Whether you love It's a Wonderful Life (Merry Christmas George), A Christmas Story (you'll shoot your eye out), or

How the Grinch Stole Christmas

(his heart was three sizes too small), many of us cherish these classic movies that are reserved for once a year and never get tired of watching it each time the season rolls around. And don't forget that some of the best new movies at the box office almost always roll out the week of Christmas.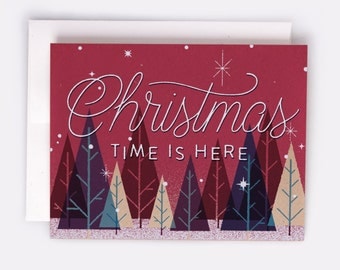 3. Christmas is a great time to procrastinate - How many times have you said that the you are going to begin that project "as soon as the holidays are over." The other 11 months out of the year, make us feel guilty when we procrastinate. But everyone seems to understand that once the calendar rolls to December, some things can just wait. Virtually everyone gets a little more grace around the holidays (including my husband and children.)
4. Christmas treats - Now if you are on a diet this may not be a reason to be grateful but we all know that there is one food or drink that we treat ourselves to over the holidays because it's only out once a year. Savor that homemade peppermint bark, fruitcake, or gingerbread latte. You only get to enjoy it for this season.
5. Everything really is Merry and Bright - Drive through your neighborhood after dark and it's your own private light show. Even the most "self-professed" uncreative people seem to find a way to hang a strand of lights and pop up a Christmas inflatable in the most delightful way. And it really doesn't matter which neighborhood you live in, all across your city you will see houses of all shapes and sizes with lights and Christmas displays.
6. Generosity becomes more intentional - Tis better to give than to receive never rings more true than at Christmas time. Even the most frugal find it in their hearts to drop some change in the red kettle or buy a Christmas gift for a child from the angel tree. And for most of us, this time of year we truly do find some joy watching those we love unwrap a gift from us.
7. Seeing Christmas through a child's eyes - If your children believe in Santa there are few stops that parents won't pull out to keep the magic alive. From writing a letter to Santa, to Elf on the Shelf, hiding Christmas presents, and leaving out milk and cookies, we all get a little more child-like at Christmas. And even strangers in the checkout line at the grocery store have asked my children if they are excited about Santa coming to visit. There is certainly something special about children at Christmastime.
The season will be over soon and we will all be back to our normal routine. So cherish some of the unexpected blessings of the holiday season and remember to love generously, give unexpectedly, and slow down to enjoy the true meaning of Christmas when God sent us the most precious gift of all, His Son Jesus.
Merry Christmas!